Professional Engineering
Welcome to PAX-SUN Engineering, INC.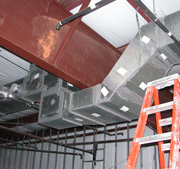 We are a professional mechanical, electrical and plumbing (MEP) engineering firm with offices in Georgetown, Texas. We provide a variety of commercial, industrial and residential engineering services. Customer satisfaction, product and service guarantees, and complete professionalism are crucial elements of our continued diligence even in our economy's most difficult times.
Established in 1978, we have served the East Texas area for over 40 years. Engineering service areas, in the past, have extended from Austin to Texarkana while the Construction service area ranges anywhere from Orange to the Ft. Worth area.
What can you expect from Pax-Sun Engineering?
Quality Service:
Whether designing MEP systems or repairing household central heat and air-conditioning systems, Pax-Sun Engineering's staff is committed to providing the best products and services in an efficient and effective manner.
Experienced Staff:
With motivation and encouragement to continue expanding on foundational skills, our staff possesses experience across a spectrum of professional engineering.
Where we are and how to contact us:
Mechanical
Electrical
Plumbing
Fire Sprinkler